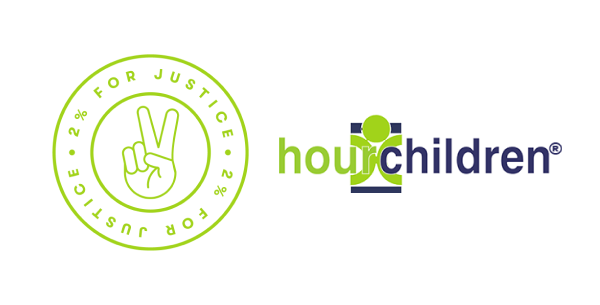 2% for Hour Children
We are proud to announce our support for Hour Children, a leading provider of services to incarcerated and formerly incarcerated women and their children in New York.
by Johanna Ferreira (@cup_of_johanna)
For our next 2% for Justice commitment, we are proud to announce our donation to Hour Children, a leading provider of services to incarcerated and formerly incarcerated women and their children in New York State. The organization's mission is to support families during a mother's incarceration and help families get back on their feet upon release. 
Our introduction to Hours Children came through our esteemed friend Alexander Turbin, an attorney for children at the Legal Aid Society's Juvenile Rights Practice (JRP). For nearly nine years, Turbin has represented children ranging from as young as infancy to young adults — in a variety of matters — primarily in Queens Family court. He got connected with Hour Children through previous clients who lived at Hour Children with their mother in Long Island City, Queens. The racial disparities in food insecurity that continue to exist among Black and Latinx households especially during the COVID-19 crisis, inspired Turbin to get creative about giving back. Through his contact at Hours Children, he was able to connect with the Hour Children food pantry team, whom he pitched the idea of organizing a home-cooked food donation. Not only was Turbin able to put together an event that was both valuable and incredibly helpful to our communities, but he also learned quite a few things about how folks can help during the pandemic outside of just donating money. We chatted with Turbin who shared how his passion for social justice fueled his desire to organize this hot food pantry along with some of his own advice on giving back during these unprecedented times.  
How does your work also align with your social justice values?
I was always moved by the values I inherited from my friends and family. My father was a life-long public school teacher in the Bronx, my mother in her retirement works for the progressive The Nation magazine, my child neighbor is a civil rights attorney, and my closest friends and family are each to some degree activists for causes they consider dear. In some sense, being an advocate, combating injustice, and giving underrepresented New Yorkers a voice has always been my calling. 

What inspired and motivated you to work in this area of practice?
I consider myself very fortunate to have discovered and developed a career in this practice area — the Legal Aid Society's Juvenile Rights Practice (JRP). I can think of no clients more deserving than kids who are forced to confront the child welfare, foster care, juvenile justice systems, and the often oppressive and seemingly insurmountable hurdles posed by each. JRP represents 90 percent of the children who appear in child welfare matters before the Family Court in all five boroughs of New York City and our interdisciplinary teams serve as attorneys for children in approximately 30,000 cases annually. I am quite lucky to play a part. 
I believe legal services — along with health care, education, housing, and many more essential needs — are not a privilege, but a basic human right. I also strive to advocate for my clients, a vastly disproportionate number of whom are Black, brown and immigrant children, by combating implicit bias and structural racism that pervades their daily lives. 
What motivated you to put together this hot food pantry for Hour Children? 
While we have all suffered from the COVID pandemic, I am beyond privileged to have a job, income stability, my health, food security, and steadily a home. Like many others, however, I have missed very dearly, the ability to freely socialize with both my family and my close friends — to share experiences and a homemade meal. The holidays have been a time to collaborate, celebrate, and cook. Having missed many of my favorites these past holidays, it dawned on me that I could still relish in some: I could still cook and I could still share.
At first it was hard to find a site that would accept home-cooked meals. Most local food pantries accept only donations of packaged food (for sensible health reasons). So I reached out to a social worker I knew at Hour Children's supportive residence for children and families who suffer from a mother's incarceration. I have previously had clients, a sibling group of three (ages 11-16), who lived at Hour Children with their mother in Long Island City, Queens. During our work together, the tremendous staff at Hour Children and I were able to ensure this family remained intact and helped the children to narrowly avoid the foster system. I later learned that my former-clients' mother now works at the same Hour Children residence that helped her and her children remain together. 
My contact at the Hour Children residence put me in touch with the Hour Children Food Pantry who not only welcomed but celebrated my idea for a home-cooked food for donation. What began as a desire to cook a few meals out of my kitchen turned into a project that inspired 9 volunteer cooks, several dozens of small and large money donors, 11 volunteer servers, a local chef, and support from a number of community-based and social justice-oriented organizations — a huge thanks to Loisa for their donations, and to GrowNYC, FeedMeMore, and Chef Yadira Garcia of Happy Healthy Latina for an event that hosted and fed more than 150 individuals and families. We amassed a total of 44 trays of hot/cooked food. 
What advice would you give to folks interested in organizing hot food pantries right now?
I am the furthest from an expert in this area. This was my first attempt at a project of this kind and scale. But here are some steps I'd suggest:
Identify a site to host a food distribution (connecting with an established food pantry made announcing the event and generating guests easy).
Solicit money donations. 
Generate and organize volunteers to cook and deliver homemade meals. 
Cook at home. 
Coordinate for a chef/caterer to supply unmet food needs. We worked with Chef Lisle Brown at FeedMeMoreNY.
Purchase or acquire non-food items (chafing dishes, sternos, food containers, utensils, serving bags, gloves, hand sanitizers, masks etc.)
Enlist a team of volunteers to serve and distribute. It really took a whole team!
Why do you feel it's so important to give back especially these days?
During the COVID pandemic, food insecurity, already a critical issue faced by too many New Yorkers, has skyrocketed. In October, an estimated 1.5 million New Yorkers were unable to afford food and relied heavily on emergency food distributions and pantries. With the Black and Latinx communities suffering the hardest from unemployment, COVID transmission, and food insecurity, lending support is more critical now more than ever. Fully recognizing that not everyone has the same privileges I have, nor do they have access to as much support as I do, no New Yorker is less deserving. And if there is one thing that we all deserve it's to be able to eat today. 
What are some other ways folks can help give back during the pandemic?
In addition to food, we handed out nearly 100 masks at the 2/15 distribution. Guests specifically requested personal protective equipment and I was glad to have plenty on hand. Donating PPE benefits not only communities in need but all New Yorkers. As I understand it, there is currently an increased need for those who have COVID antibodies to donate blood. As an attorney, many of my young clients, disproportionately children of color, are in foster care separated from their families and suffering more than ever during the pandemic. There are myriad ways to support this vulnerable population in their times of need from providing financial support to organizations whose budgets have been slashed, to contributing to COVID crisis relief, to donating various items in high demand (like pampers, clothes, strollers, and car seats).
Join in supporting the food pantry at Hour Children here through donations or by simply spreading the word!