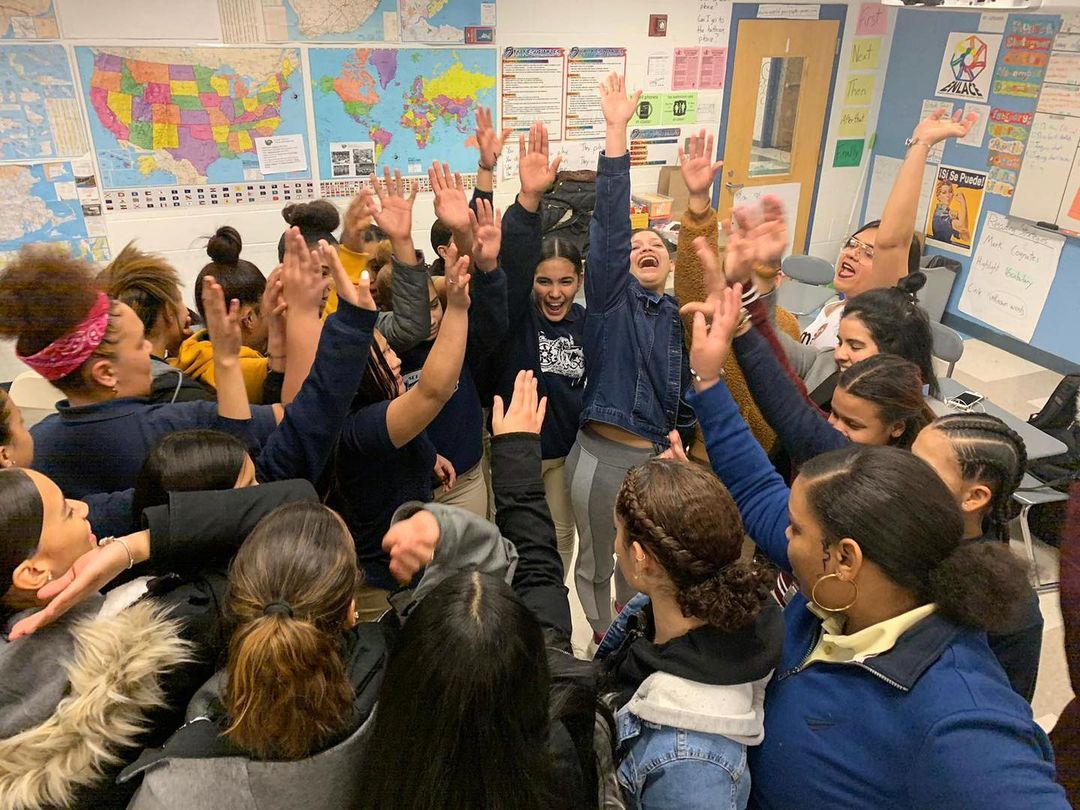 2% for Chica Project
Investing in the futures of young Latinas and Women of Color.
On this International Women's Day, we're proud to support and name the Chica Project – an organization that empowers young Latinas and young Women of Color to become leaders and agents of change in their communities— as our 2% for Justice recipient. 
It's imperative to us that during this month, Women's History Month, and every month, we recognize all the work that is still needed to be done to accomplish a more just and equitable society for the women in our lives. Women, on average, earn 84 cents for every dollar earned by men, and this pay gap has remained relatively unchanged over the past two decades. This gap becomes even wider for Black and Latina women. Black women earn only 63 cents, Native American women earn only 60 cents, and Latina women earn only 55 cents for every dollar earned by White men. ​​Women of Color are also overrepresented in low-wage jobs and underrepresented in high-wage jobs, further contributing to the wage gap.
Chica Project is a Boston-based non-profit organization that recognizes the unique challenges young Latinas and Women of Color face in achieving their full potential due to various social and economic factors. The mission of Chica Project is to inspire and equip these young women to achieve their full potential and "become leaders in their communities while removing the barriers to entry that keep Black and Brown women down." Their approach is rooted in the belief that every girl has the potential to achieve greatness and that with the right support and resources, they can overcome any obstacle and achieve their dreams.
Chica Project seeks to help the chicas in their program, ages 13-18, reach their goals through the various programs they provide. These programs and services are designed to promote academic achievement, leadership development, and community involvement. 
Some of the programs Chica Project offers include:
Chica Challenge: A six-week summer program that provides girls with a comprehensive curriculum focused on leadership development, college preparation, and career readiness. The program includes workshops, field trips, guest speakers, and other activities designed to inspire and equip girls with the skills and knowledge they need to succeed in school and beyond.
Chica Fellowship: Offers chicas the opportunity to work on a social justice project of their own design. The fellowship provides them with mentorship, training, and resources to help them develop their project and make a positive impact in their community.
Chica Circle: Weekly after-school program that provides girls with a safe and supportive space to explore their interests, develop their leadership skills, and connect with other like-minded girls.
Chica Ambassadors: Provides girls with opportunities to represent Chica Project at events and conferences, develop their public speaking skills, and build their professional networks.
Chica Mentorship: Chica Project offers mentorship opportunities for girls who want to connect with successful Latina women who can provide guidance and support as they pursue their goals.
Chica Project impacts the lives of many girls in the Boston area by helping them improve their grades, gain admission to top colleges, and develop the confidence and skills they need to pursue their goals. They're committed to expanding their reach and empowering more young women across the country to achieve their dreams.
"When you don't see people who look like you, it's hard to aspire to be them. We show you." - Chica Project
We're proud to support such a vital organization that is making a real difference in creating a brighter future for our chicas!
Ways to Help
You can sign up to mentor a chica or share opportunities with Chica Project here! 
Ways to Donate
You can donate directly to Chica Project here.
Want to Spread the Word 
To stay up to date on their latest news, follow Chica Project on Instagram and Facebook.