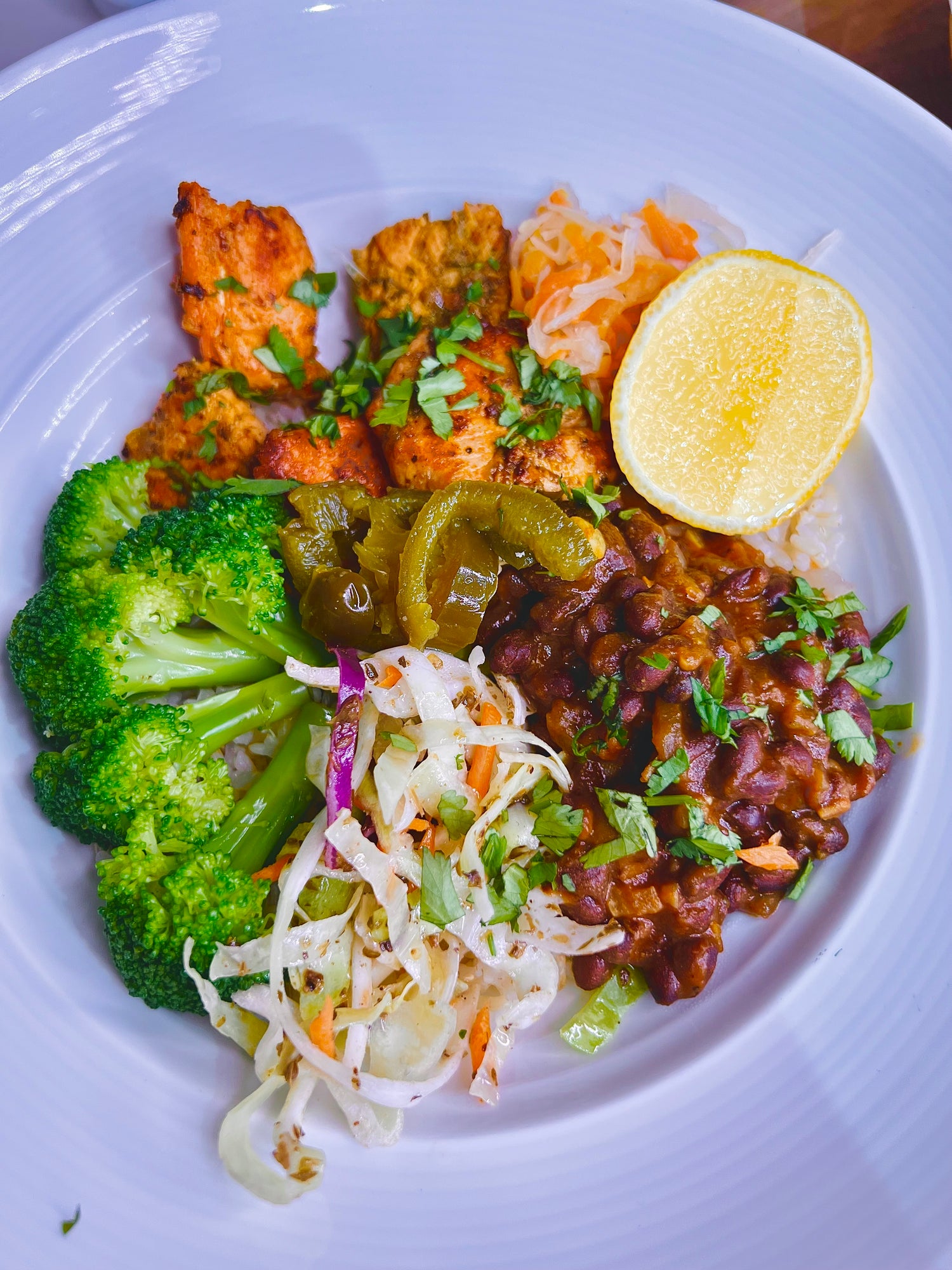 Happy Healthy Hormone Balanced Bowl
Chef Yadi cooks it up in honor of Women's History Month, sharing with us her flavorful hormone-balancing salmon bowl. 
By Chef Yadi | @HappyHealthyLatina 
Hola Hola! The month of March brings us many special reasons to celebrate being a Mujer and the Mujerones we love in our life - those that raised us and made us who we are today. It's also National Nutrition Month, Women's History Month, and Endometriosis Awareness Month, and therefore a time to empower ourselves in creating and protecting our health-wealth. 
During this intersectional month, it's important to recognize the conditions affecting millions of women and women of color in our country, many of whom are suffering silently. Endometriosis, PCOS, fibroids, cysts, and severe PMS are just a few.
Importantly, hormone imbalances can exacerbate any of the symptoms for women who have these conditions. Estrogen levels that are out of wack can cause women to suffer from depression, anxiety, fatigue, weight gain, and more. Thankfully, restoring our hormones to healthy levels can be done through lifestyle changes, and with that, the foods we eat.
This is a subject I am especially passionate about studying and sharing. As a fellow Cyster and having been diagnosed with Dysmenorrhea (severe PMS), these conditions really affected my quality of life, which I have been able to reverse and control with consistent dietary and lifestyle changes. We have so much more control than we know or are led to believe, by no fault of our own. Using food as medicine CAN lead us to what often feels like miraculous breakthroughs.
Here at Loisa, we believe that knowledge is poder (power), and this recipe for a delicious hormone-balancing bowl brings a number level-balancing nutrients together with ease! Packed with omega-3s, complex carbs & fiber, fermented probiotic foods, and lastly some estrogen-balancing cruciferous vegetables, this wild salmon and black bean guisado is layered into a sabroso bowl, flavored purely with with our Signature Sofrito and Organic Sazones. It's a dish everyone can enjoy, though I made it especially to honor the Mujeres in our lives! 
Buen Provecho,
Chef Yadi